These days all it is going on about our organic coconut water Genuine Coconut. We have already started talking to the best terraces and establishments in Barcelona, Madrid, Ibiza, Formentera and Marbella, so soon you will be able to enjoy our organic coconut water.
We will be telling you about all our plans, including parties, presentations and exclusive events where you can try the coconut water that everyone's talking about.
What we did last weekend was get into the Anda Ya, 40 Principales radio morning show, because they are on tour and we did not want to miss their faces when they discovered Genuine.
Dani Moreno, director and presenter of the leading wake-up music programme on Spanish radio needed to recover energy and he did it by drinking one with his colleague Cristian Sanbernardino. His words could not define it better…. "coconudo" he said on Instagram.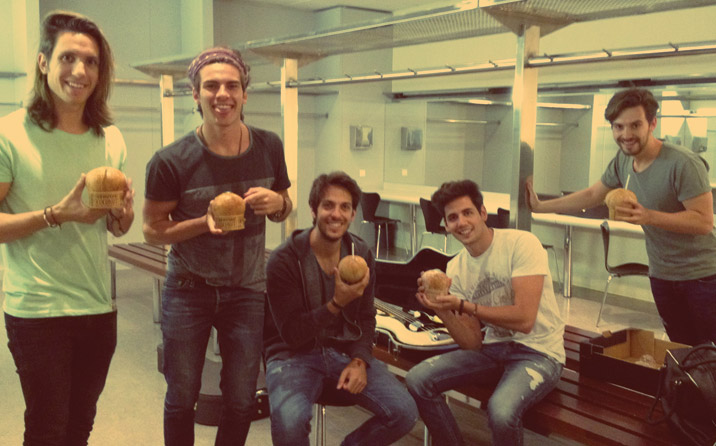 The artist invited on the programme on this occasion was DVICIO. They were in Thailand recently and were very surprised and delighted to find a drink that took them back to the place where they enjoyed so much.
All the group were able to check out what we have been saying for days: it is a 100% natural and organic drink ready to drink straight form its original container.
Dani Moreno and all the members of DVICIO: Alberto, Andrés, Luis, Nacho and Martín could say that the drink is really genuine.
And especially, we have to tell you that what gets top marks, apart from the flavour, is the easy-opening system. Only Genuine Coconut uses a system so identifiable and simple, the coconut itself. It's a real surprise at first and at the end to see what you have in your hand.
Our intention is that more and more people try it every day and we can share good moments together. If you go to a terrace and find Genuine Coconut, please tell us about your thoughts. And remember to take a picture and post it on your social network, our label is #GenuineCoconut.
If we get into a show again we will tell you about it… and something tells me it will happen again soon.