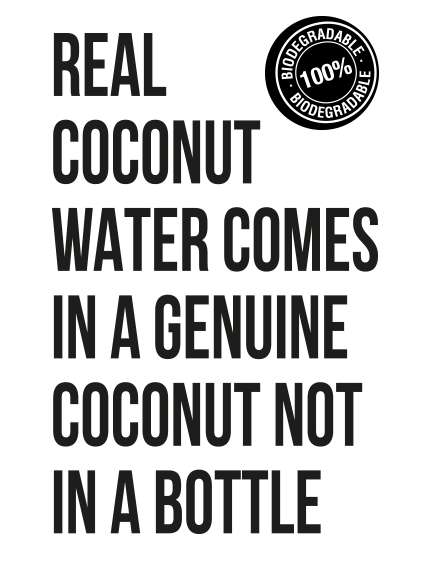 Genuine Coconut is a high quality organic coconut, with a large amount of water and meat. It is consumed directly from the coconut itself, the best possible container for its conservation and of course ecological.
Its easy opening system allows to drink and eat the coconut in the most sensible way, being able to consume it in any place without using tools. A delicious drink and a healthy snack to enjoy as and when you want.
Poke the hole above the logo with the stick
Insert the straw to DRINK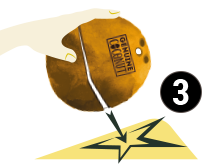 Peel off the label andhit on a hard surface right on the carved line

Have you dreamed of easily opening a coconut? The new coconut from Genuine coconut offers a sensuous and comfortable way to enjoy the best water and coconut meat …. How?
Drilling the shell with a bamboo straw to drink its water and opening the coconut in two halves without the need for tools. Surprising? Easy and surprisingly tasty!
All components of the Drink&Eat pack have been expressly developed by Genuine Coconut to be 100% biodegradable and compostable, as well as free of contaminants. Both the label and the straw are made of PLA (a biodegradable polymer made from corn starch), the stick is made of bamboo and wrapped in paper, and the container, the coconut shell itself, is 100% ecological because it can either be reused or turned into excellent fertiliser.

Organic Quality Certificate, Genuine Coconut takes care of your health and well-being, providing a totally natural and chemical-free food. With this, we also take care of our planet, reducing the pollution of the environment, favoring biodiversity and making proper use of natural resources.
Coco only under a palm tree? Enjoy it where you want. The philosophy of Coconut is to take care of its body and your mind, enjoying a unique flavor. Hydrate, refresh yourself with its delicious meat. Easy to open and transport, it is a drink and snack ideal for any situation … at home or at work, at a gym, barbecue or picnic: Genuine Coconut Drink & Eat.
Trick to remove the meat
---
Genuine Coconut Drink & Eat is so easy to open that it does not need tools or great physical strength. If you want the meat to come out so easy that even a child can do it without any risk, you can freeze Genuine Coconut, once opened, for 12 hours. After this time, remove it, and with only a minute of microwave (90 W) will be ready to eat. In this way, the meat is separated more easily.